Wear PURPLE - Panther's Spirit Week: African American Look-A-Like Day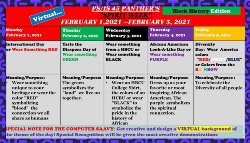 What

Wear PURPLE - Panther's Spirit Week: African American Look-A-Like Day

When

2/4/2021
Spirit Week
2/1/21-2/5/21

African American Look-A-Like Day:
Dress up as your favorite or most inspiration African American. The purple symbolizes spiritual connection.

*Special Note for Computer Saavy:
Get creative and design a Virtual background of the theme of the day! Special Recognition will be given to the most creative demonstrations.
Copy to Google Calendar
•
Download iCal Event