Wear RED - Panther's Spirit Week: International Day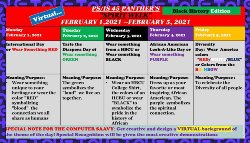 What

Wear RED - Panther's Spirit Week: International Day

When

2/1/2021
Spirit Week: Black History Edition
2/1/21-2/5/21

International Day
- Wear something unique to your heritage or wear the color "red" symbolizing "blood" the connection we share as humans.

*Special Note for Computer Saavy:
Get creative and design a Virtual background of the theme of the day! Special Recognition will be given to the most creative demonstrations.
Copy to Google Calendar
•
Download iCal Event