Arrival Procedure
All students will enter the school yard, and line up according to their class and grade.

Students' temperatures will be checked at random and given hand sanitizer upon entering.

If the student is found to exceed 100 degrees Fahrenheit, they should not enter the building. Otherwise the child will be escorted to the isolation room and guardian will be notified for pickup.

Teachers will pick up and escort their class through the right lunchroom doors; for any students who want to pick up their breakfast.

Breakfast will not be eaten in the cafeteria. Students will eat breakfast in their own classroom.

Classes will then exit the lunchroom according to their assigned route.

FOR ANNEX BUILDING:
Students will enter at their respective classroom door ONLY. Do not use the main annex entrance for arrival.
All school transportation vehicle

s will be cleaned and disinfected each day using CDC recommended cleaning and disinfection protocols.

All school bus operators, attendants, monitors, and anyone who has direct contact with students must wear gloves.

Students who do not have a face covering when attempting to board a bus will be provided a face covering upon entering the bus.

Transportation for a student with a disability which would prevent them from wearing a mask may not be the conventional mode that the student had prior to March 2020. Such cases will be addressed on a case-by-case basis.

Seating on the bus will be clearly marked to designate which seats may be used and which seats will be blocked off for social distancing.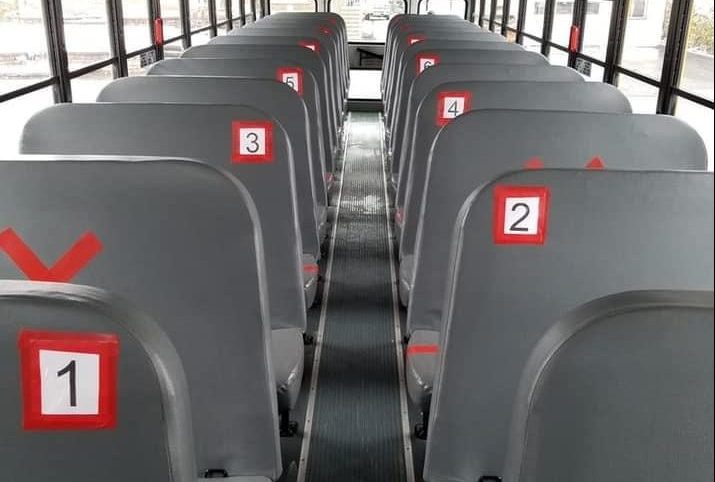 To minimize crowding, please contact your classroom teacher on our Remind App. It is the best way to get answers for quick questions or concerns.
Please note that some teachers may use other platforms such as ClassDojo for contact too.
If you need to speak to a classroom teacher, administrator, or staff member in person, please call the school first to schedule an appointment.
Upon entrance, you will be required to
pass a temperature check (under 100

° F).

wear a mask at all times.